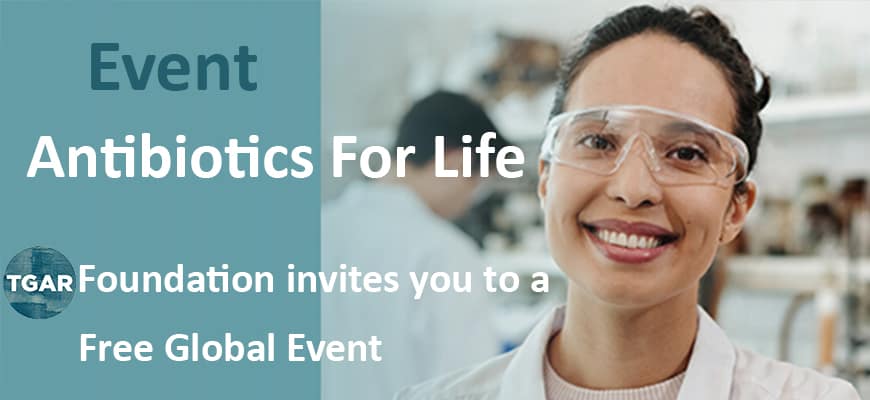 Including physical Specialist-panel live from Helsinki Finland!
Are you ready to talk? We are! You are most welcome to join and participate in our discussion
Sign up for the free online event or attend in person on Tuesday, May 31th at 15:00 – 18:00 EEST
Flik, Studio Nr 1/5, Eliel, Töölönlahdenkatu 2, 00100 Helsinki (Sanomatalo) 
Antibiotic resistance is one of the biggest threats to global health, food security, and development today. That is why The Global Antibiotics Resistance Foundation is organizing a Hybrid event about how to reduce the wrong use of Antibiotics and improve stewardship. Welcome to join the discussion! 
During the event it will also be discussed how the Nordics, like Finland, Sweden are doing in curbing the development of Antibiotics Resistance in comparison with the South of Europe. We will hear interesting panel discussions from specialists like Pekka Honkanen  Prof. em. MD. Eero Punkka Dr. Björn Rönnerstrand Dr. PhD. Windi Muziasari PhD. Ambassador for Health and Wellbeing at the Finnish Ministry for Foreign Affairs Päivi Sillanaukee MD, PhD, eMBA and Ville Kainu, MD, PhD. Global Medical Affairs Director, Anti-Infectives, Pfizer.
During the panel "Break-in" session we will also hear the opinion of specialists from the South of Europe.
Specialists are;
Ema Paulino, President of the Portuguese National Association of Pharmacies,
Maria Jose Ruiz Alvarez Medical, member of the Research Coordination and Support Service (CORI)  in the Italian National Institute of Health
Manuel Freire-Garabal (MD, PhD, FRSM) professor of Pharmacology at the School of Medicine of the University of Santiago de Compostela in Spain.
WHEN:          May 31st 2022, 15:00 – 18:00 (Helsinki Finland)
WHO:            The Global Antibiotics Resistance Foundation
WHERE:       Global Webinar, with physical Specialist-panel in Helsinki
WITH:           Great Key Speakers
WHY: 1. How to reduce the wrong use of Antibiotics and improve stewardship?
2. Can cooperation stimulate innovation to create new Antibiotics?
3. What can we learn from the differences between the North and South of Europe?
4. How can we use our collected health data to create new Medicines?